• Data Quality
• Master Data Management
• Data Lineage & Catalog
• On Boarding Data Lake
• Data Warehouse Modernization
• Data Lakehouse Implementation
• Data Mesh Architecture
• Data Modeling & Big Data Landscape
• Business Intelligence
• Data Discovery
• Analytics & BI Self Service
• Descriptive Analytics
• Data Pipeline Orchestration
• ETL / ELT development
• APIs / Data Services
• DataOps
• Machine Learning & IA
• Augmented Analytics & Optimization
• Predictive Analytics
• Prescriptive Analytics
• Data Monetization
• MLOps
We provide specialized and impartial advice to our clients, helping to transform the company into a data driven company, evaluating its level of maturity, optimizing its investments and recommending the key strategic initiatives within the framework of a strategic roadmap with more than 30 successful cases.
• Data & Analytics Diagnosis, Maturity and Evolution Roadmap.
• Structure of the CoE, Roles, Skills and KPIs.
• Data literacy, Data Academy, Objectives and Development.
• Change management: Data Driven Culture.
• Technological Stack: Intake, Big Data, BI, Data Science, Governance.
• Onboarding Data Cloud: AWS, GCP, Azure or Mixed.
• DataOps Consulting.
• Definition of Government Program. Framework and Stewardship.
• Government Structure, Roles, Organization, KPIs and Evolution.
• Implementation of Components: Data Catalog and Lineage, Data Quality, Master Data and Data Security.

• Self Services BI Consulting.
• Visualization best practices consultancy.
• Definition of exploitation tools.
• Data Science, AI and ML capabilities.
• MLOps Consulting.
• Best integration Practices, Real Time Intakes and Sandbox.
We combine Agile Analytics, Lean Methodology & Design Thinking practices.
We rely on Design Thinking to generate scalable and reusable model design for different use cases.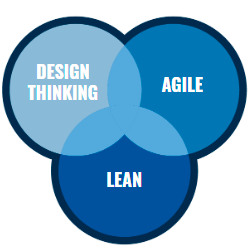 Agile deploy of the solution
Weekly follow-up of the scrum master with Team members and sprints every 2 weeks with the closing of each stage or cycle as defined by the Product Owner.
We implement LEAN methodology to be able to deliver products in each sprint under the guidelines of MVP (Minimum Viable Product)
We also use CANVAS to understand the impact of the solution of each use case and analyze objectives and value proposition.