On Boarding Data Lake •
Data Engineering & ETL Development •
Data Modeling & Big Data Landscape •
Data Quality •
Master Data Management •
Data Lineage & Catalog •
• Business Intelligence
• Data Discovery
• Analytics & BI Self Service
• Machine Learning & IA
• Augmented Analytics & Optimization
• Data Monetization
We combine Agile Analytics, Lean Methodology & Design Thinking practices.
We rely on Design Thinking to generate scalable and reusable model design for different use cases.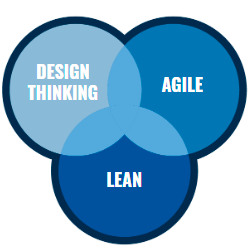 Agile deploy of the solution
Weekly follow-up of the scrum master with Team members and sprints every 2 weeks with the closing of each stage or cycle as defined by the Product Owner.
We implement LEAN methodology to be able to deliver products in each sprint under the guidelines of MVP (Minimum Viable Product)
We also use CANVAS to understand the impact of the solution of each use case and analyze objectives and value proposition.